Matching robes for the bride and bridemaids
Having matching robes or gowns during the getting ready part of the wedding day is a really lovely touch for bridal parties. And we love it.
MATCHING Robes or DRESSING GOWNS
This is such a beautiful touch for the bride and her bridesmaids (and bridesmen!!) and it always looks so great in the getting ready photos. We love getting natural pictures of brides and their bridesmaids (and I keep saying bridesmen too as it's becoming so popular to have mixed gender bridal parties). We love candid getting ready photos of them all on the big day in matching dressing gowns or lovely robes. We know it's not for everyone. But it really does look wonderful on the day and in your wedding images. Just something to think about.
The robes are a lovely gift for you bridal party to keep. You can also gift some of the photographs of you all getting ready as a keepsake for your bridesmaids to thank them afterwards.
In the image above and below, Janel Parrish gifted all her bridesmaids and bridesmen fun getting ready robes on her wedding day.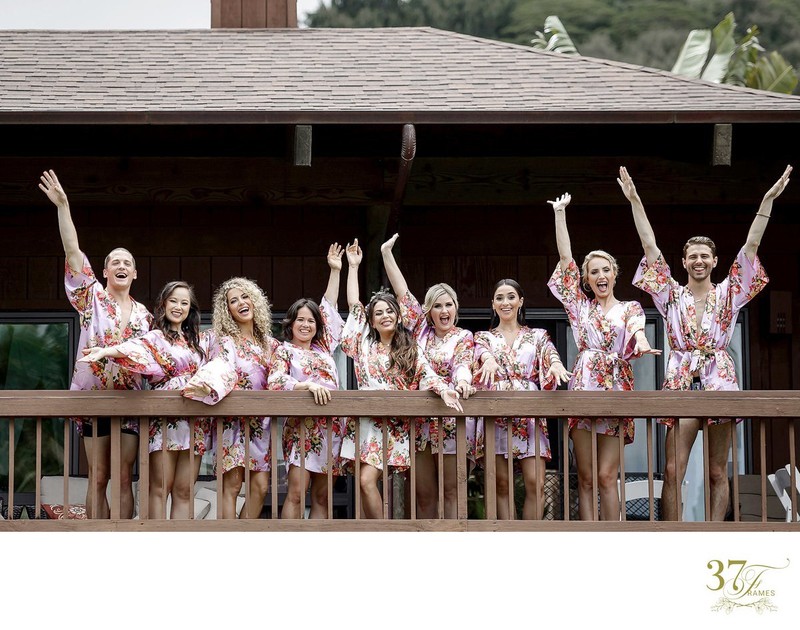 To see more of Janel's wedding you can read the blog here...







Location: Kualoa Ranch, Hawaii.

Keywords: japan wedding photography (371), tokyo wedding photographers (404), wedding photography tokyo (371).

Japan Wedding Planning & Photography | 3-8-25-703 Kamiochiai, Shinjuku-ku TOKYO Japan 161-0034 | 070-4129-2485 | info@37framesphotography.com | Copyright©2021